After suiting up for the first game, but never touching the field, Steven Jackson plans to make his preseason debut on Saturday against the Tennessee Titans.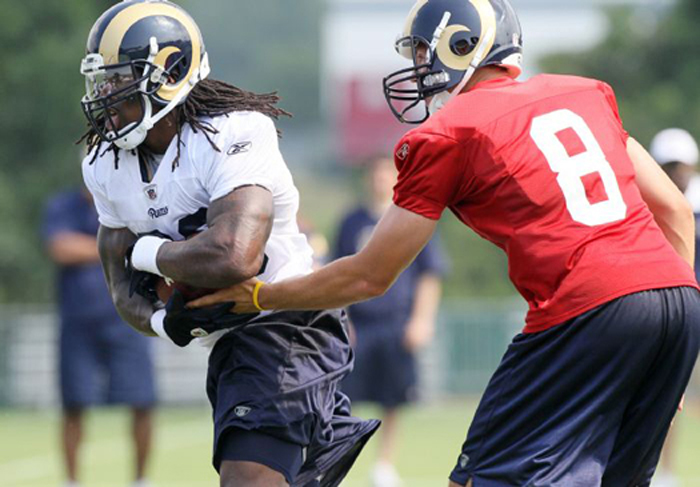 SJ39 is hopeful he'll get plenty of live game handoffs on Saturday night (St. Louis Post-Dispatch).
With Steven watching last Saturday, the Rams opened the preseason with a 33-10 drubbing of the Indianapolis Colts. No matter the personnel, new coordinator Josh McDaniels' offense was in-sync for the entire night, piling up three offensive touchdowns and four field goals on a Colts team that has made the postseason each of the last nine seasons.
Steven said watching McDaniels at work during the opening game and analyzing his play-calling helped him understand his coordinator more than if he was in the game.
"You never know what kind of signal caller you have until you get into a (game) situation," S-Jax said. "It allowed me to get a feel for him."
Now No. 39 is ready to get a feel for McDaniels' plays first hand. He expects to start on Saturday night and play as long as the first unit does, which could be the entire first half.
"We're all fairly new to it so you just want to make sure you're executing the plays and doing the things coach McDaniels wants," Steven said. "The plan is to go Saturday to start getting comfortable with the offense in a game situation, get comfortable with (RG Harvey) Dahl, get comfortable with the play calling — just go through the routine of a game.

"Pretty much just gel with the offense, the offensive line and make sure that I'm seeing things and hitting things like I want to and we're all hitting (together)."
Dahl echoed those sentiments noting that the players know what to do in the new offense. Now it's all about executing. "We know what we're trying to do," he said. "It's just the little things, the communication, working together."
Based on what he's seen so far in practice and the first exhibition, Steven is amped about the possibilities going forward in St. Louis:
"I'm very excited about where we're going as an offense," he said. "I'm very excited about what Coach McDaniels can do with our abilities."
McDaniels knows he can do plenty with the abilities of the man they call Action Jackson in St. Louis:
"Steven has been awesome in terms of his leadership, in terms of the way he's worked to try to pick up his part of the system," McDaniels told ESPN Radio. "I think he's really showed the young guys how to try to go to work every day here. I'm really excited to have the opportunity to play with him and to use him. And he's not just a one-dimensional guy. This guy's going to be in a lot of different places, and we're hopefully going to make it difficult to find him and use him every way we can."
SJ39 also believes that his new backups, Cadillac Williams and Jerius Norwood, can offer some fresh perspective on opposing defenses. He pointed specifically to each player's status as an NFL veteran in detailing how they can all help each other be successful.
"I think they bring the ability of fresh young eyes that know and understand the game at the speed that it is right now," Steven told 101 ESPN. "So, years previous, I had younger guys where I had to actually come off the field and maybe mentor, tell them what I saw. Now, I can lean on those guys to be an extra coach on the sideline."
Expectations are high within Rams camp, but they also believe they might catch their opponents by surprise.
"Teams still look at us as the 1-15 Rams of two years ago," S-Jax told CBS Sports. "I'm anticipating a big year not only for myself but for the team as well. Hopefully, we get over the hump and back into the postseason."
NEXT UP
The Rams and Titans kickoff from the Edward Jones Dome in St. Louis on Saturday night at 7 p.m. CDT. The game can on KEVI Channel 2 with Andrew Siciliano and newly minted Hall-of-Famer Marshall Faulk on the call.
The game will also be broadcast on tape delay on the NFL Network at 3 p.m. on Monday afternoon and 6 a.m. on Thursday morning.
RELATED STORIES