Our season is almost here and I'm chomping at the bit for Sunday to get here to see what we can do as a team. I'm really excited about the possibilities.
Personally, I feel primed and ready to start the season off really fast. I really feel comfortable right now with the work that we've put in.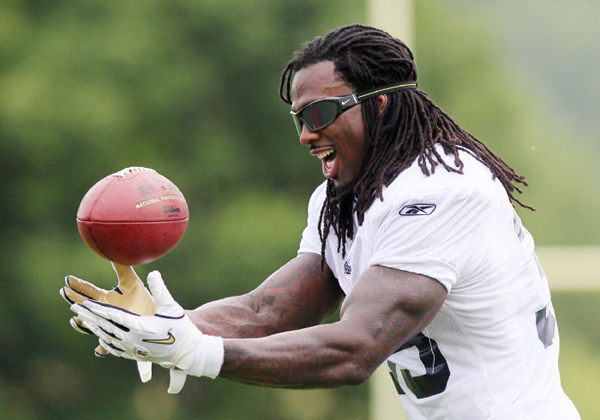 I feel comfortable with where I am as a player and where we are as a team (Getty Images).
From our short time together now, going through training camp and heading into the season, I've seen that we have a mixture of good and young talent. With the addition of some free agent veterans, I think we have a solid team.
We finally have depth at every position and from that depth we've had competition that has made the team better. As we continue to play games and continue to work together, we definitely will be a better team from here on out.
I'm really excited to have another year with Sam. He's got a year under his belt now and he looks poised. He looks great. He knows the offense as well as any of us. You can tell that he was really studying and preparing for this season. He's really comfortable going into year two.
Offensively, I'm not sure how far into the playbook we are. We've only had six weeks to be together, but in those six weeks we have built a foundation for the offense. From that foundation, we can identify what we're good at and get reps in those strength areas so we have an identity and comfort in the offense.
From there, Coach McDaniels can slowly input other things based around game planning for the defenses of other teams and matchups. I'm pretty sure we're nowhere near having the entire offense in, but that can be a good thing. It gives us more to work with as the season goes on and we can become even more dynamic.
We're not alone in this. All 32 teams are on an even playing field. Everyone has had a lockout. Every team had to deal with the difficulty of having people catch up, young guys and veterans alike. I'm just really excited about what we have here already. It's also great to know that we haven't even had the chance yet to pull out all our weapons or explore different things in a playbook that has proven in the past to be championship worthy.
We finished 4-0 in our exhibition games, but the preseason is just that, the preseason. When you play those games, you do play to beat the opponent that you're matched up against, because we all at the end of the day are competitors and great athletes. But you still can't take anything away from preseason results.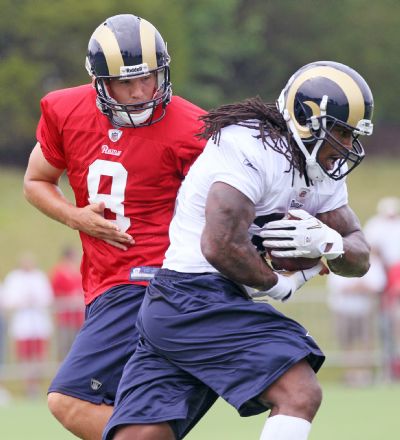 If anything, what you do take away is that is allowed us to have some semblance of game speed and matchups. It's a chance to see another opponent outside of your teammates. But we don't go into the regular season thinking we have this thing down or that we know what it takes to go 16-0. You just take it for what it is.
Everyone on our team played a little more during the preseason, just because this has not been a normal offseason.
To go into the preseason with the mindset that particular starters would not have see much action, after six months of having no football, I don't think that would have been a smart thing for us to do here. I'm really happy with the workload that I got and I feel comfortable with it.
We're really happy about having an impressive performance. But more importantly, we want to come out this week for the regular season and keep winning. We want to win more games than we lose and have a winning record at the end of 16 games.
KEEP AN EYE ON OUR D
As much as I'm excited regarding our offense, I'm also very energized about our defense.
Our defense has now been together for three years and we have mostly returning starters on that side of the ball. Coach Spags has implemented his style and made that the focal point when he came over. That's why the organization brought him in, to bring that tough-nosed football that's going to create turnovers and confusion. Those guys we have on defense cause havoc for an offense.
Each year our defense has improved. Last year they ranked pretty high up in the league and to now give them a third year in the system, you can tell that the communication is there. Everyone knows what each other is doing, like a well-oiled machine.
I'm really excited to see them against an explosive opponent like the Philadelphia Eagles. I think that's really going to show what this defense is capable of doing. It should bring some notoriety to what these guys have been slowly building on the defensive side of the ball here in St. Louis.
Philadelphia is a team that is always in contention for the playoffs. They're definitely an elite team in pro football. It will definitely be a tough challenge, one we're looking forward to. It's going to be a measuring stick on both sides of the ball to see how much more we need to grow to be on that same elite level as a franchise.
FROM THE FANS
I asked you guys for more questions on Facebook and Twitter and you delivered in a big way. There were a bunch of good ones, but I narrowed it down to a six-pack of questions to answer before I go.
The first one comes from Ben Walton on Facebook. Ben asked:
What inspires you to go out there on the field every game and give it your all?
I take a little bit of my motivation from a lot of different things, but number one is, I just realize the moment that I'm in and I understand that it's not going to last forever. I know it's a true blessing. This is something that I've always wanted to do and always wanted to be.

When the moment presented itself, I wanted to seize it and have no regrets. I believe that a lot of people work hard and many feel like they're underappreciated. I try to just take that same mentality to the football field and show through tough play and 100 percent effort that hard work doesn't go unnoticed.
The next question comes from a young man named Christian Croft on Facebook. Christian asked me:
How does it feel to know that teenagers my age wanna be like u?
Being a role model is a huge responsibility. Some people try to shy away from it and some people embrace it, but either way, it's something that we all bear the weight of. Any chance I have to go talk to young people and motivate them to be the best they can be, I take it.

You never know whose life you can change. It's an amazing thing that my words or my work might have the weight to affect a person's life. So I think it's my responsibility to do that, to help them avoid some of the pitfalls I've made and help them continue to strive to be the best they can be.
Up next we have a question from Logan Phelps on Facebook:
"Who has been your biggest influence on your life and career so far in your life?"
The biggest influence is definitely my parents. Equally. They play different roles in my life, of course. My father has raised me to be the man that I am. Each and every day I just try to go out and do the things that he's taught me over the years about what a man should be.

From a faith-based standpoint, I try to do things the way my mother has. She's unbelievably strong in that area of her life. Sometimes when nothing mentally or physically can get you out of a situation you have to strictly depend on faith. I've seen her do it time and time again and I love her for that. It's definitely helped me a lot of times as well.
Next question is from Jake Puls on Facebook:
"When you get ready for a game what bible verse do you read before each game?"
There is no particular verse that I read or try to glance at before I go out on the field, but I always say a good prayer with my family, not only to cover my health, but each and every player that is going to touch the field.
We have another question about my pre-game routine from Justin Lowe on Facebook and he wants to know:
"Do you listen to music on game day to get pumped up? If so, what do you like to listen to?"
I do listen to music before hitting the field. Right now, I've been playing a lot of the Jay-Z/Kanye West album "Watch the Throne." When I'm not listening to that album, I have a few playlists that I have a lot of different artists on and a lot of different songs. I'll play that as I hit the field to stretch to make sure I'm loosening up and getting amped up, ready to go.

One superstitious thing that I do before each game is I have a small cup of coffee in the locker room before hitting the field. I like to get a small dose of some caffeine in me for a little kick.
The last question comes from Heather Westerback and it's a good one.
"If you could meet one person alive or deceased, fictional or not, who would you most like to meet & why?"
I'm not sure if I can narrow it down to one person. I would love to have dinner with Nelson Mandela, Jesus Christ and Dr. Martin Luther King, Jr. I think those three would be a very powerful dinner. I would have a lot of questions and I'd be doing more listening than talking, just being in their presence and grasping on to their messages. Each one of those men was a leader and I know I could learn a lot.
Thanks to everyone that submitted questions.
EMOTIONS IN CHECK
Back to this week's game against the Eagles, I know as a leader of this team that we as a unit have to channel all our energy and excitement for the new season and not let it overcome us.
The key for us is going to be to treat this game like every other game. You do go into it with a different focus, of course, because mistakes are more costly at this point. But you have to approach the game as you would a practice or a preseason game. We trust in the fundamentals and the things we've been working on and hope to execute better than the opponent across from us.
We have to put the expectations out of our mind for the 16-game season. It sounds cliché, but it really is important to just take each game as it comes. As the season goes we will work to make sure that our wins outweigh our losses and we hope that guys are staying healthy for us.
We definitely hear the expectations and we look forward to the challenge, but that's not something you can hang your hat on. Each team we face is going to give us a game. They're going to fight hard for it. They want to win just as badly as we do. We just hope that we can continue down the road to success that we've started to construct.