Sometimes the best way to move forward is to first take a step back. In that way, I really think the bye week coming when it did is going to do us a lot of good.
We took a step back and took a breather. Each week, you're judged for that whole week by wins and losses on Sunday. But in the bye week, we took a deep breath and it gave us a better chance to see what we've been doing wrong.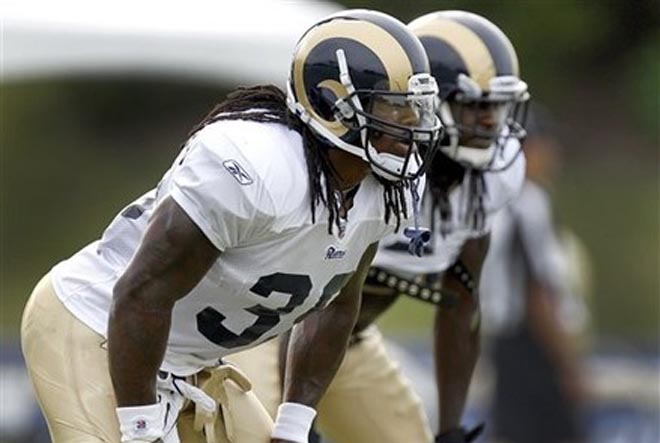 The point is to figure out where we lost these games, rectify those things, and move on to get better over the next 12. We needed to find a solution as to what we're doing wrong and get this thing turned around right now.
There's no denying that we have a very very young team. You have guys at skill spots that are very young. You have two receivers that were just drafted and a tight end in Lance Kendricks, who has seen a lot of snaps and he's also a rookie. On our defensive side of the ball, we had a lot of free agent acquisitions that came in new and are still learning the way we do things here.
On top of all that, we've faced a very challenging first four games. That's not to say they were games we couldn't have won. We believe we competed and we let opportunities get away from us. But having a bye this early allows us to refocus rather than hitting the panic button.
When you go into a bye week, it allows you to assess yourself as a team. You want to figure out what you do well and you also want to figure out what you do poorly. Then you work on the basic fundamentals of each and every assignment.
For offensive linemen, that's working on your steps and your hat placement, the way you put your hands on a pass-rusher. As a running back, I work on run reads, blitz pickup and route running. It seems very simplistic, but these are the fundamental points of the game that every player needs to maintain week-in and week-out.
It's really hard to work on things like that during the week-to-week grind. We have so little time as a team on the field that sometimes the basic fundamentals aren't worked upon as much as we would like. Each week we work on learning an opponent and breaking down their tendencies so much that are there are things on our own end that we just can't get to.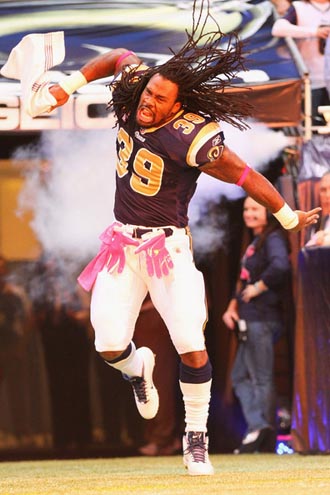 But from what I saw both in each game and then on tape, we're not losing games due to lack of work or lack of effort. Work ethic and effort are not a concern on this team. I believe if anyone was to come out and watch us practice, based on those two things, you wouldn't be able to tell if we're 4-0 or 0-4. Everyone is committed. Everyone is working. As a leader of the team, I'm very happy about that.
We continued to work hard throughout the week and that's a real positive. Guys are showing that they're not going to throw in the towel. Our last game against the Redskins is a good example. We were down 14 at one point and we came fighting back to make that game very interesting in the last five to six minutes. We had a chance to tie the game and send it into overtime. So guys are not throwing in the towel when we get down and you like to see that as a leader. That shows me that everyone here still cares. We all have pride and want to win. That will is still there.
THE RIGHT APPROACH TO ADVERSITY
I get asked a lot of questions on Twitter and Facebook about how I stay positive when the team is struggling.
I truly believe that maintaining a healthy outlook and being optimistic is the only way to deal with hard situations. I don't believe anything in life comes easy. If there is anything that you feel is worth fighting for, then you should put up a good fight.
Negativity looks for ways to separate people from one another. The more positive you are and the more you enforce the right way to do things, it doesn't allow negativity to creep in. Those feelings all become positive. I'm constantly reminding myself to be the light in what some would refer to as the dark tunnel.
I draw that outlook from a lot of the reading I've done about great leaders in history. I also draw plenty from my parents. I'm fortunate to still have both of them and I draw from their experience. If it's something that I haven't read about, I definitely ask questions of my mom and dad about how they would handle a given situation.
There is some wisdom to be found there. They may not have put on an NFL uniform, but I'm pretty sure they've dealt with situations that are difficult and, good or bad, I want to know how they dealt with it and how it's relatable to what's going on in my life. How can I draw from the decisions they've made? I balance those things and then I sit and meditate on it so I can make a decision that's right.
PLENTY OF LEADERSHIP
One thing we don't lack on this team is a sense of direction.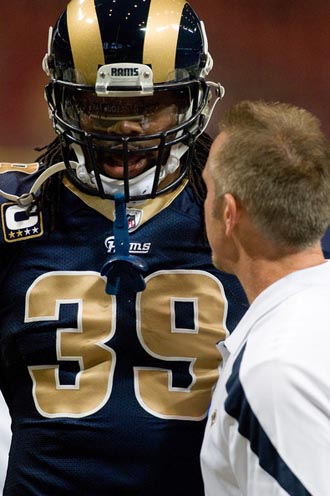 Coach Spagnuolo has done a great job of giving us goals and he's mapped out what we're taking aim at so that we're don't question the makeup of this team. We all know what needs to be corrected and what we need to do better. I truly believe we're on the road to getting ourselves back on track.
Sam is doing a really good job of guiding this team through adversity. He has more responsibility this year than he did last year and I think he's doing great. He's one of the first players in the building and he's one of the last to leave it.
He's constantly meeting with Coach McDaniels, evaluating the game plan, studying film and trying to get himself ready as our field general to put us in the best position to win the game. He's even stepped up and given some halftime speeches to try to fire up the troops.
You can definitely see why he was so successful in his collegiate career, and I do believe he will be successful in his NFL career.
Sam and I lean on each other in terms of the leadership of this team. In being a good leader, you have to also be willing to be a server as well. So I give myself to him when he needs an ear to talk to and bounce things off of, or if he has a question about something. I want to be there for that. I take great pride in being a leader too, so we feed off of each other. We each handle situations differently, but whatever the circumstance may be, we have a feel for one another and we know who should step up and who should do what.
Our relationship has definitely grown a lot over the last two years on the field. But I've also had a chance to spend time with Sam off the field and from that interaction, I've developed a good feel for him. The more you hang around your teammates in friendly situations, rather than just being around them in situations where it's very competitive and stressful, you can gain a better understanding of them as men.
PLAYING WITH PURPOSE
I have noticed one particular thing that we need to get better at as a unit. It's playing with the mentality that every play can be the play to put us over the top in a given game.
The more you have a chance to be around coaches, or guys that have been on championship teams, they all say that all games are separated by five or six plays. What that means is that, on any given Sunday, any team can win and there are going to be five or six plays that make the difference in who wins that game.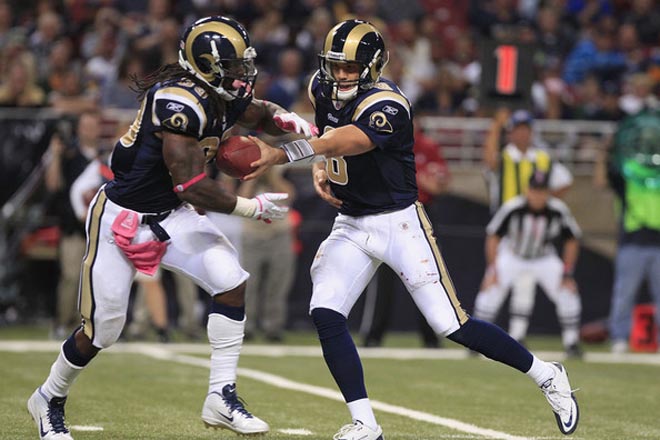 Being in the moment, as a player, obviously you don't know when those plays are going to come up. So you have to play each play like it is your last, like it's going to be that play that makes the difference between your team winning and losing. We had to reinforce and reiterate that here over the last two weeks.
I don't care if it's an inside run or a five-yard slant, the goal of each play is not just to position ourselves into having a favorable third down situation. Let's execute this play so that it might also be a 60-yard touchdown. That's what we had to get better at. We have to believe that any and every play can be a scoring opportunity.
I have a lot of confidence in this offense that we run. We definitely know that this is an offensive scheme that is capable of winning championships. As far as picking it up, we all have been working hard to learn as much as we can in a short amount of time, but no one is griping or complaining about the lack of time we had in camp.
As a professional you just have to stay longer, watch more film and try to ask as many questions as you can to help you and your teammates learn at a faster rate. That's what I'm doing to try to help. In training camp, I actually made flash cards of plays. That helped to speed up my learning process. I'm not saying I have the offense down pat, but sometimes it's those things that may seem so elementary and simple that are effective. If it helps you when you have to learn something new, then it's worth it.
THINK PINK
As I mentioned on Twitter a few weeks back, I've made the pledge that for every 100-yard game I have and touchdown I score in October, I will donate $1,000 toward breast cancer research.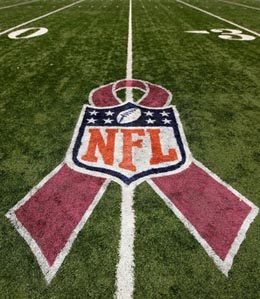 Breast cancer awareness is a cause that has been important to me for a while now. I really believe that women, and some men, that have had to deal with breast cancer really need to know that in addition to family and friends, even people on the outside care about their well being.
I've been a chairperson with Susan G. Komen for the Cure in the City of St. Louis two times. I've heard the stories. This disease has been taking lives for far too long and its important to put money and effort toward it until we can find a cure. These people deserve to be able to continue on with their life as they knew it before getting the news that they have to deal with cancer.
I think this is a cause that means a lot to guys in the NFL and that's why you'll see so many players wearing pink this month. We all have mothers, we all have sisters and some of us have daughters that could at some point be affected. This disease is one of those things that puts into perspective the fact that sometimes, no matter how big or fast you are, some challenges present themselves and you're at their mercy.
Knowing that you have the support of not only your loved ones, but also the support of a whole race of humans, I think that's helpful for those trying to cope. It allows for the person who is afflicted with the disease to have a reason to fight and not give up.
PACKED FOR GREEN BAY
This week's game against the Green Bay Packers is going to be a very big challenge for our team.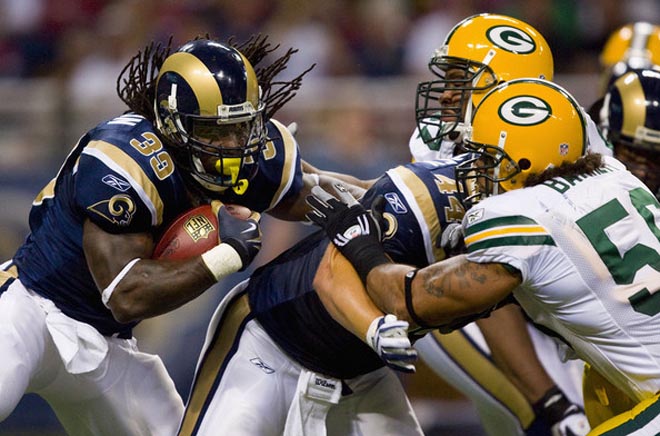 They are at the top of the mountain and we want to be there. Every team works and strives to hold up that Lombardi and I see it as a great challenge. What better way to overcome that disappointment of our first month of football than to go into Lambeau and get our first win of the season? That would spark a lot of confidence in this team if we're able to do that.
We're done looking back now. These next 12 are the most important games of the year. The season is not lost yet. If you can get hot at the right time in this league, anything can happen.
One thing that I've been stressing to the guys is just to let loose and have fun. We cannot lose our sense of what the game is about and what it was built on. Because the moment you start really tensing up and searching for that panic button, you put yourself in a tight bind. I really want to see this team let loose, have fun and just go out there and let it all hang out.
We'll see what happens at the end of sixty minutes, but I really believe that the good teams not only have their schemes down, but they also have fun playing the game. If we can do that, we can win on Sunday in Green Bay.