As of this week, it's back to work for Steven Jackson and the Rams.
St. Louis began its 2011 training camp last Saturday at Rams Park and after two days without pads, they suited up for the first time on Monday. Steven told the St. Louis Post-Dispatch that he was excited by what he'd seen so far.
"It felt great to get out here with the team, actually sit down with the coaching staff, just being in the whole team element," he said. "I felt like a lot of guys, especially the veterans, came in shape, ready, focused. Everyone's pretty enthusiastic about building off what happened last year."
As they prepare for what is certain to be an entertaining and exciting season and a run at the NFC West title, S-Jax and the Rams have dealt with plenty of obstacles over the first week of camp.
Like many other teams across the league, St. Louis was without players they'd usually count on because players who signed new contracts were not allowed to participate in practice just yet, leaving the Rams several men down. Couple that with undertaking the knowledge of a new offensive system and it's been an up-hill battle.
The ratification of the new collective bargaining agreement on Thursday helped allay some of those obstacles as the Rams put together a full camp for the first time on Thursday night.
Among the signings the Rams made in free agency this year were two running backs to backup up No. 39 in the St. Louis backfield. Cadillac Williams and Jerius Norwood joined the Rams on Friday and Steven welcomed them into the fold with open arms.
"I'm really excited about the additions at running back. They're going to help us get better," he told the Post-Dispatch. "I think the addition of both guys, Norwood and Williams, brings us depth and competition, which makes us better."
But SJ39 was even happier to see new right guard Harvey Dahl, who helped the Falcons put together one of the best rushing offenses in the league last year, suit up in Rams blue and gold.
"I think that Dahl addition lengthens my career," he said. "That's huge. In my opinion, the best pickup. The right guard is a position you lean heavily on, especially in the running game. He's been good. I've had a chance to see him live and in person when we played Atlanta. He's a guy you hate to go against but when he's on your team, you feel really good about it. He's going to bring that edge to the offensive line that each and every team wants."
Steven brings that edge to the St. Louis huddle each and every day and with a new season set to begin, SJ39 says he is ready to roll.
"I still feel fresh. I still feel young," Jackson said after a long practice Thursday. "I'm looking forward to this year. I feel really good about the season and where we're going. We've got some new fresh talent on this team and it'll make each and every player better."
WHAT WE DO BEST
With all the moving pieces finally in place at Rams Park, Steven is amped to get to work. And after just a week in new offensive coordinator Josh McDaniels' system, he's encouraged by what he's hearing.
"One of the first things he said to the offense was that we are going to come out and establish our identity about playing fast, executing, and that he's going to learn what we do best and we're going to perfect it," Steven said of the new offense. "I was very impressed when he said, 'learn what we do best,' and not try to force something that he may want to do. That told me that he is very understanding, very open to evaluating the talent that he has around him and use it to his advantage in his playbook."
One way McDaniels hopes to use Steven to his advantage as a receiver out of the backfield.
In his breakout year of 2006, S-Jax caught 90 balls out of the backfield and piled up 806 receiving yards on top of 1528 rushing yards. His 2,334 yards from scrimmage led the NFL. But since then, Steven's high water mark in catches for a season is 51 in 2009 and he hasn't eclipsed 400 yards receiving in the last four seasons. But that could change dramatically in 2011 under McDaniels. The new coach told the Belleville News-Democrat that he's well aware No. 39's versatility.
"I knew that already," McDaniels said of Jackson having 90 receptions in a season. "He's got all the skills that you'd like a running back to have. He can receive the ball out of the backfield. He certainly can break tackles. He's a great runner, and as many ways as we can possibly utilize that player this year, that's hopefully what we'll do. We'll maximize him and keep him fresh."
As ESPN.com's Mike Sando writes, there's not much to go off of from McDaniels' offense at previous stops, because he's never had Steven Jackson in those places:
Since 2001, when McDaniels began his NFL coaching career with New England, his teams have produced 1,000-yard rushers only twice. Corey Dillon (1,635 yards) and Antowain Smith (1,157) both reached that mark with New England. Also during that time, Kevin Faulk owns the highest single-season receptions total for a running back with 58. He had 507 yards rushing that season. Faulk is the only running back with more than 37 receptions in a season for teams featuring McDaniels as a coach.

Of course, McDaniels has never worked with a back quite like Jackson.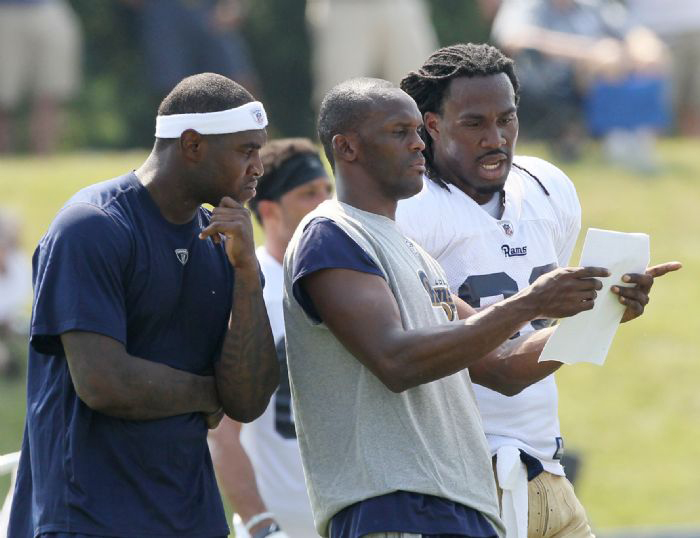 Former teammate Isaac Bruce, who spent some time at Rams Park this week working with St. Louis receivers, believes the new offense will open more doors for SJ39, as he told the Belleville News-Democrat:
"Just being in a couple of meetings tonight and this morning, I can truly say, 'I like this offense,'" Bruce said. "I think guys on the outside (receivers) will really flourish in it, which will open up a lot for Steven (Jackson). I'm excited about it. If I was still playing with only one practice a day in training camp, I would be real happy right now."
Steven is excited to see what is behind those doors and thinks the offense will help him become an even better back:
"[Receiving] is definitely a part of my game that I have been missing the last couple of seasons," Jackson said. "I'm looking forward to having that challenge. Proving to the rest of the league that I am more than downhill, first- and -second down kind of running back.

"I think if anybody can help me re-establish myself as a franchise back, an all-around back, I think Josh will do that."
NEXT UP
The Rams were originally scheduled to be in Canton, Ohio this weekend to take on the Chicago Bears as part of Hall-of-Fame weekend. But the lockout forced the cancellation of that game. Now the Rams will have to wait a week before suiting up for exhibition action.
St. Louis begins the preseason next Saturday, when they host the Indianapolis Colts at the Edward Jones Dome. Kickoff is scheduled for 7 p.m. CDT.
RELATED STORIES