This Sunday, Steven Jackson and the St. Louis Rams kickoff one of the most highly anticipated seasons for the franchise since Steven arrived in St. Louis more than seven years ago.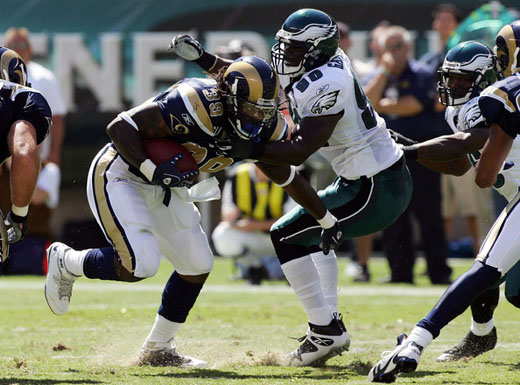 Steven and the Rams face off against the Eagles on Sunday for the first time since Week 1 in 2008.
The Rams start the 2011 season seeking to build off last year's six-game improvement and 7-9 record. To begin the new season, they'll face as tough of a test as there is in the NFC, the Philadelphia Eagles.
"They're one of the elite teams in the National Football League, so it's definitely going to be a (case) of seeing where we're at as a young team and as a franchise coming back," No. 39 said.
Like the Rams, Philadelphia made several upgrades to its team this spring to become even more dynamic, but Steven is confident as the Rams open the season.
"It's a very exciting week. Each and every year, you only get one chance for a season opener and I'm very grateful we get to start off at home," Jackson said Thursday after practice. "We want to start the season off right."
The Rams will debut a new offense on Sunday, one that is expected to have Steven at the center on both running and passing downs. The glimpses of that new offense in the preseason have been promising and the Week 1 rollout promises to offer some surprises. Jim Thomas of the St. Louis Post-Dispatch previewed Steven's role in the offense.
Jackson is fit and anxious to do his thing in the McDaniels offense. That could mean more work as a receiver than he has gotten in recent seasons, but Jackson is all for that. If his workload decreases in this offense, it shouldn't be by much. For the first time since 2005, which was Marshall Faulk's final season, Jackson has quality backup help.
But in the same token, No. 39 prides himself on being the Rams' lead guy. He's been in that role since Faulk retired and remains one of the last remnants of the every-down-back era in the NFL. However, when Steven thinks of his role, he thinks of past runners that carried the load and he wants to continue to follow their lead.
"I see the guys that I looked up to in my childhood, you had guys a lot smaller than me carrying the load and doing it for quite some time and being successful at it," he said. "You know, I (pattern) myself after them. He wanted to be them when I was a child. And the way I'm playing out my career is everything that I dreamed of, and I wouldn't have it any other way."
To read more about Steven's life as a lead back, courtesy of the St. Louis Post-Dispatch, click here.
THE TRIALS OF A BEAST
Through his first seven seasons, It has been an arduous journey for No. 39 in St. Louis and last season the Rams got as close to the playoffs as they've ever been in his career.
But he believes the trials have earned him a popular nickname with fans: The Beast:
"It's funny," Steven told the Post-Dispatch. "I've been referred to as 'the Beast' for quite some time. I said, 'I'm going to look it up.' I'll give you a quick synopsis of how I looked at it, and how I thought of it. It is a mammal that bears the weight of something and transports it. And I feel like I've been a beast because I've borne the weight of some tough times around St. Louis.

"I've been the particular chosen one, that feels that maybe he's the one that's strong enough to bring us through the darkness back to a point where Sam (Bradford) and these younger guys will bring us back to a point of glory."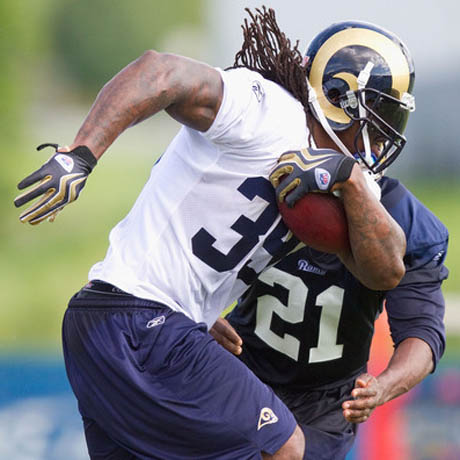 Rams general manager Billy Devaney respects Steven's role on the Rams and what he's been through to earn it, as he told Pete Prisco of CBS Sports.
"I've used the Reggie Jackson line before, but Steven is the straw that stirs the drink," Devaney said "He's been through a lot of tough times, but he's the consummate pro. He helps people. He's a great teammate. They respect him. It's great that all the crude he's been though and he can still carry himself the way he does."
His opponents on Sunday respect Steven's talent too and know they'll have to be ready for a heavy does of SJ39 come kickoff. Ray Didinger, who covers the Eagles for Comcast Sports Network notes that Steven in precisely the type of runner that gives Philly fits.
"He's the focal point for us," Eagles rookie linebacker Casey Matthews said of Jackson. "He's one of the premier backs in the league. He's the one who makes them go. You want to try to make them one dimensional if you can. If you let him get going it makes things a lot easier for Sam."
PLAYING ON 9/11
When players across the NFL take the field on Sunday, they will do so with heavy hearts on the tenth anniversary of the September 11th terrorist attacks in New York and Washington D.C.
Like other teams, the Rams have planned a special tribute prior to the game. For Steven, their's a deep meaning to playing on the anniversary, as he told the Belleville News-Democrat:
"We all know where we were 10 years ago and seeing those things unfold on our nation is big," Rams running back Steven Jackson said. "To be there on Sunday to celebrate and remember those people that lost their lives and the men and women that service and defend this country and did all what they did in New York, it's big."

Jackson said he was a freshman at Oregon State on Sept. 11.

"It was actually my first training camp away, getting ready to start my own season in college," Jackson said.
NEXT UP
The Rams and the Eagles get the 2011 NFL season underway on Sunday afternoon inside the Edward Jones Dome. Kickoff is scheduled for 12 p.m. CDT and the game can be seen on FOX.
RELATED STORIES