To be an NFL running back at the caliber of the league's best, one must be in peak physical condition. According to ESPN, Steven Jackson is at that peak.
Steven is featured this week in the third annual Body Issue of ESPN the Magazine. The magazine showcases the athletic bodies of 22 professional athletes in their purest form. Steven is the only NFL player featured. Other athletes come from every sport from baseball to roller derby.
Watch Steven's shoot for the Body Issue below:
S-Jax told ESPN the Magazine editors that he had been waiting for them to call regarding the Body Issue.
"I'm blessed not to have any insecurities. I've never tried to look like anyone else or wished I was bigger or smaller," Steven said in an interview with the magazine. "I don't stare at myself in the mirror. Some people might have better abs or better biceps, but I'm here to represent that you should be fully comfortable in your own skin. Don't try to look like Steven Jackson."
When Steven entered the NFL out of Oregon State University, he assumed that to be the type of NFL back he wanted to be, he would have to bulk up his physique. That was not the case, and he learned from his mistakes. He believes others, whether they are athletes are not, can learn from it too.
"I bulked up from 233 pounds to 245, and my body wasn't used to carrying the extra weight," he said. "It put me in misery. I'd get my knee drained and I had lateral meniscus surgery. But the moment I dropped that weight, I felt healthier; the stress on my knees disappeared."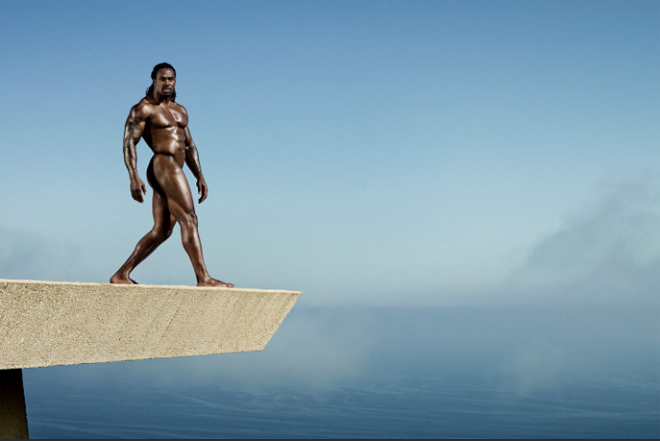 But the key to SJ39's training to achieve the body he desires and that keeps him among the NFL's elite isn't necessarily just weight or resistance. Steven also believes that variety has to be part of a good workout if one hopes to attain the body they want.
"I'm always trying to keep my muscles guessing," he said. "If you do the same thing over and over, your body becomes immune to it. That's the worst, seeing someone go to the gym nonstop but get absolutely nowhere. You need to trick your muscle memory."
ESPN The Magazine's Body Issue is on newsstands now. Steven Jackson is featured on page 78.